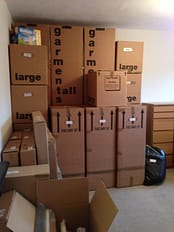 Some Helpful Packing Tips
Moving house can be extremely stressful. But if you are well prepared and choose a reputable house removals company to move you then you should be assured of a smooth move.
Which is better?  The removals men arrive at your house where the contents are fully packed in suitable boxes and ready for loading, or the men arrive to find the house contents are not properly packed and furniture is not ready to be collected which will cause unnecessary delays and issues with loading of your furniture. I am sure the latter is not your idea of a smooth move.
Getting your packing right can make all the difference and take the headaches out of moving. Here are 10 top tips to help you pack your belongings safely and sensibly.
1. Have a good clear out
What better time to get rid of unwanted junk than moving time? Clearing out those unwanted items and other rubbish can not only make your packing easier, but can help you de-stress all round. Maybe you could even raise some money by selling a few items.
2. Stock up on packing supplies
The last thing you want is to run out of packing supplies. It is better to have too much than too little. Movingeverywhere stock a large range of quality, sturdy boxes and other packing materials.
3. Check your contents insurance for coverage
It's worth checking your house contents insurance to see if you're covered for breakages when packing and moving. In all the rush you just might drop a box.
4. Start packing early
Start packing up as early as possible. That moving day will be fast upon you, and nobody needs a mad rush to be ready.
5. Pack away stuff you won't be needing
This seems obvious, but start early by packing away the things that you'll be needing the least.
6. Don't over-pack boxes
Don't over-pack boxes. It's easy to get carried away and stack an enormous weight inside of a large box. This will put you at risk of injury when carrying it, as well as risking the box breaking.
7. Pack room by room, top to bottom, if you can
Start with the attic and work your way down. This helps to keep at least some areas clutter free, and keeps some order to proceedings.
8. Label every box
This goes hand in hand with the last tip. Don't just assume you'll remember what's in each box. It won't happen!
9. Keep hazardous substances separate
Keep things such as cleaning materials and paints separate from your other belongings, and clearly marked. You don't want any nasty spills.  Removal companies are unable to carry flammable or hazardous materials, so you will have to make your own arrangements for transportation.
10. Keep a box of essentials handy
Keep a separate box full of items you most need. Food, drinks, a kettle, washing stuff for all the family, a torch, first-aid kit, medicines and a small tool kit are some of the things you might consider.  Always a good idea to pack an overnight bag, just in case something happens en-route which delays the lorry or in case the sale does not complete until the next day.
A Movingeverywhere we are here to provide as much help as we can to ensure that during the whole move process you know what to expect and what yours and our responsibilites are to ensure that you hae