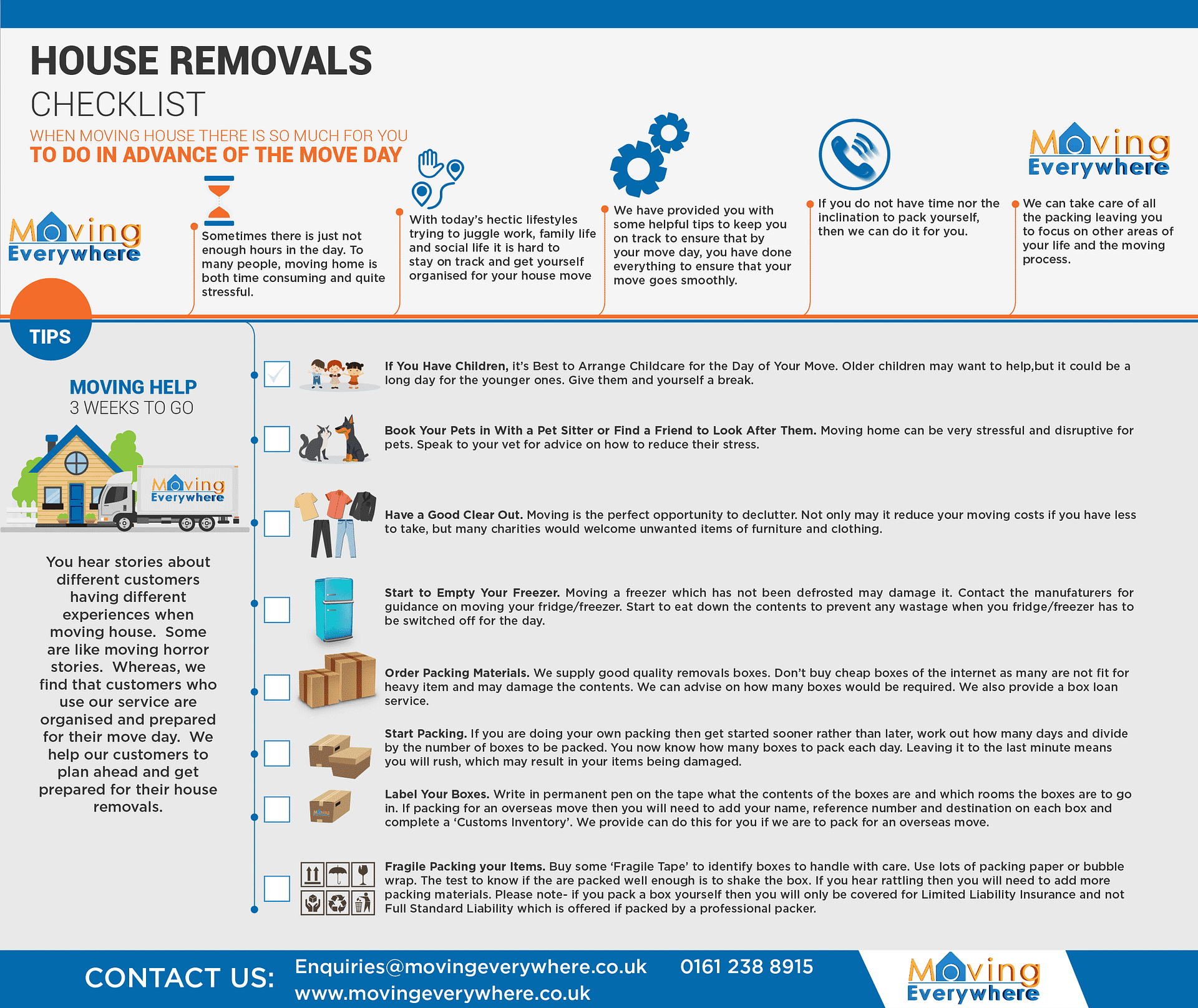 Moving Help – 3 weeks to go
You hear stories about different customers having different experiences when moving house.  Some are like moving horror stories.  Whereas, we find that customers who use our service are organised and prepared for their move day.  We help our customers to plan ahead and get prepared for their house removals.
We have shown below some tips to help get you organised so your move goes smoothly and your move does not become a horror story.If you have children, arrange childcare for your moving day. Older children may well want to be involved in your house move, but it could be a long day for the younger ones. Give them, and yourself, a break.Make arrangements for moving house with pets. Moving house can be very disruptive for pets so you may want to ask your vet for specialist advice.
On moving day itself, it's a good idea to leave them with family or friends – especially big dogs. Some big dogs don't seem to like big removals men.Have a good clear out. A new home is the perfect time for a new start and there's no point in moving your unwanted belongings with you. Organise a clear out a few weeks before your move.
Local charities will be happy to receive unwanted clothing and other items in good condition. Contact your council if there is anything bulky that you want to recycle. You could also consider a car boot sale or small ads in your local paper to help clear some clutter – or have a flutter on the modern car boot equivalent, eBay.Start emptying your freezer. Bet you didn't think of that one. Moving a freezer that has not been defrosted can actually damage the freezer. Plan a 'freezer party' to use up frozen goods before your move.
Contact your fridge manufacturer to seek advice about how long the fridge freezer should be left off before switching back on.
If you switch the freezer on to soon, it may cause the appliance not to work properly.Order Your Boxes. If you're doing your own packing now is the time to order (or scrounge) packing boxes. Contact us directly to arrange this for you – or to arrange a house packing service.
We can even provide boxes on a loan basis to our local customers.  We ask for the boxes to paid for in advance and will provide up to 50% refund on return.Get Packing. If you are doing your own packing you'll want to get started it can take quite a while to pack your own house, especially when you have other things to do.Label your boxes. When packing – write on the outside of each box what room the contents belong to, also add your surname / new house number & postcode. If packing boxes for an overseas move then you will need to make an itemized list for each box (place the list inside the box) this will be required for customs clearance of your items.
Fragile packing your items. If you are packing yourself, then any box which has fragile / breakable items then please mark these boxes and place to one side. When our moving team arrives they will check the contents to ensure that they are suitably packed, to ensure that when transported no breakages may occur. Please be advised that all owner packed items are not covered by goods in transit liability insurance. You will need to make your own insurance arrangements for the contents you have packed. Most Home contents policies will cover your items whilst in transit. We do offer a fragile pack service to cover your items whilst in transit under our liability insurance.
GET YOUR DISCOUNT MESSAGE HERE TODAY.
OFFICE MOVES. LOCAL MOVES. INTERNATIONAL MOVES.